---
Holy Orders (Be Just or Be Dead)
Guilty Gear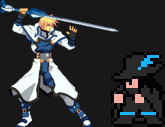 It's about time we work some Guilty Gear into the song list, so here's a cover of Holy Orders (Be Just or Be Dead), Ky Kiske's Theme!

Most of the official versions of Holy Orders are almost the same with a few subtle changes between versions, with the exception of the Overture arrangement. This is the most obvious change in the remix about halfway through. Before that, I tried to pay homage to the other versions by featuring things like the organ lines and synth lines.

There's a ton of great songs in the Guilty Gear world, so I'll most likely come back eventually. Until then!
Back to 2017 >>