---

Welcome to the Extras section. Here you can find other GaMetal-related files that don't really fit on any of the other pages. Enjoy!
Acoustic Shorts


Here are the acoustic shorts included at the end of some GaMetal song videos.
- Athletic (Super Mario Land 2: Six Golden Coins)
- Main Theme (LoZ: Twilight Princess)
- Bonus Time! (Donkey Kong Country 3)
- Special Ending (Super Mario Kart)
- Coliseum
- Zinogre
- Teenage Mutant Ninja Turtles
- Memory
- Surprise Attack (Star Fox 2)
- Chalky Woods (Etrian Odyssey III)
- Battle of Souls (Soul of Sectonia)
- Hyrule Castle

- Burning Town

- Bergentrückung
- Unfounded Revenge (Mother 3)
- Trainer Battle (Pokemon R/B/Y)
- File Select (Super Mario 64)
- Rest Area (Kirby Super Star)
- Terra
- Big Blue
- Main Theme (Final Fantasy) [Piano]
- Dark Pit
- Final Boss (McDonald's Treasure Land Adventure)
- The Legend of Mario (Chiptune)
- Shadow
- Kefka
- Here's Some Weapons (Super Mario RPG)
- Meridian Dance (Secret of Mana)

- Because I Love You (Earthbound)
- Star Wolf (Star Fox 64) [Piano]
- Menu 2 (Super Smash Bros Melee)
- Athletic (SMW2: Yoshi's Island)
---
GaMetal Guy Sprite Sheet

This is the sprite sheet I use when making pictures/animations with the GaMetal guy. Also has the sprites I made of
my 2 main guitars and my acoustic, and a buster sword sprite I made, as well as the FF6 Atma Weapon (which is unaltered from the original).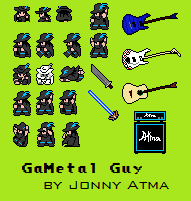 ---
Related Sites

Haven't subscribed to me on Youtube yet? Now is your chance to be a badass. Here are some other sites where you can catch Jonny Atma & GaMetal.