---
ASGORE
Undertale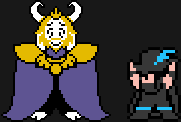 GaMetal 2016 has arrived and we're opening with another song from the still hot and fresh Undertale: ASGORE's Battle Theme!

After the great success of Megalovania, I thought I'd help out my Undertale fans some more by doing another song from this amazing game. I held a poll over on Patreon to determine the 2016 opener, and ASGORE barely edged out the runner up song by 1 vote in a sudden death round of voting, so it came a bit sooner than expected.

You might have noticed I changed my sound up some. I felt with it being a new year, it'd be nice to change things up a bit and try to improve the sound once again. The biggest change is in the drums, and once again I'm putting a heavy emphasis on improving my overall mixing. My Korg Triton LE died!! :/ so I'm stuck with using VI's and a midi controller at the moment (which you may have seen in my videos).

So I started this song out with a synth rendition of Bergentrückung, the 'intro' to the actual battle theme. I already had a Bergentrückung acoustic short, so I thought I'd change things up a bit and do it on the keys this time. I didn't really change any of the song structure, there are already enough different parts and they all go together really well. I added a solo in the middle and also did the piano interlude with mostly acoustic guitars (which, if you didn't notice, is an altered version of the Game Over music).

I'm very pleased with the new sound and love how this one turned out. I think I'll be taking a break from Undertale for a while so we don't go overboard. I know there are some of you out there that are sick of hearing about it xD. But I will say that if/when I do another UT song, it'd probably be Spear of Justice.

Until then, let's just appreciate ASGORE's awesome battle theme! :)
Back to 2016 >>