---
2 Player (Final of Puyo Puyo)
Dr. Robotnik's Mean Bean Machine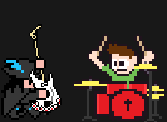 In the third collaboration of the year, I've teamed up with The8BitDrummer for a full version of the 2 Player theme from Dr. Robotnik's Mean Bean Machine! Or Final of Puyo Puyo for you Puyo fans out there.

Jerod is an amazing drummer and person and if you don't follow him, you should. He streams regularly on Twitch (you can check his website for the next stream time) and drums to requests submitted by his Twitch subs and donators. He also raises a ton of money for charity, so go and show him some support when you can!

So when I reached out to 8Bit for a collab, I gave him his choice of song, and he was all up for doing 2 Player from Mean Bean Machine. It's one of his personal favorite game songs, so I tried my best to make this one really awesome for him! You probably know I'm already familiar with this song after doing it Sonic Fan Medley 2, so I set out to make this one way better, and I think we succeeded, haha.

Again, go follow Jerod on Twitch, his streams rule! Perhaps we'll team up again for you all someday. :)
Back to 2017 >>